About us
"Fish Industrial Technologies" Ltd. has been working on the market since August, 2004. The enterprise was founded on the basis of one of the largest fish re-making companies of Ukraine "Zhytomyrryba" and is working using its forty-year industrial experience. The company has determined the principle kind of activity, which is import, re-make and wholesale trade of fish and sea-products. "FIT" Ltd. is the importer of fresh-frozen fish and it also renders broking services in cargo customs registration. In a short time the firm has achieved a considerable success. It has gained a stable part of sea-products market and has declared about itself as a reliable, stable and prospective enterprise.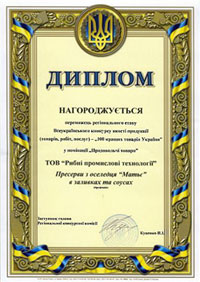 The number of our partners-suppliers is constantly growing thanks to which the assortment of our output is becoming more various.
The enterprise is fitted out with modern equipment that gives an opportunity to use editorial technologies in production in the best possible way. Besides it helps to work successfully upon further enlarging of the product assortment and to assimilate the issue of interesting novelties of the trade mark "A Fish Place Is a Good Catch".
The "FIT" output is produced of the high-quality raw, which goes through a thorough lab control and undergoes highly technological re-make. The use of natural ingredients gives an unforgettable taste and long-lasting safety to our products. The company pays the most intent attention to the natural way of production.
While preparing smoke-dried fish products we use the smoke of deciduous trees sawdust. We use such trees as an oak, alder and ash-tree. That is why our ready-made product possesses such pleasant golden colour and appetizing scent.
Nearly 200 various kinds of products are manufactured under the trade mark "A Fish Place Is a Good Catch", which include sea-kale salads and fillet of preserved herring called "Mattie" that takes up a leading position. More than 35 varieties of "Mattie" are produced now.
The new technologies give us an opportunity to fulfil any orders. Our products possess unsurpassed gustatory qualities. We can also provide our consumers with exclusive kinds of products.
Fish delivery is implemented by our own specialized transport to any city of Ukraine that is why it is possible for us to keep prices on a competitive level.
All products we manufacture are certificated and correspond to all established standards.
Our specialists are professionally qualified and have rich experience in this sphere. Our managers are always ready to present all necessary information about current assortment. While taking orders they take into consideration the wishes of every client.
The enterprise is territorially situated in Zhytomyr:
A fish re-making section;
Warehousing premises;
An administrative block;
A specialized refrigerator.